"Turtle" Submarine
Innovation is the word to best describe America's first submarine. David Bushnell from nearby Westbrook, Connecticut was a Yale graduate interested in creating an explosive weapon to use against the British during their occupation of New York Harbor during the Revolutionary War. Bushnell found local artisans who helped him construct an underwater vessel that could secretly transport a "bomb" to an unsuspecting British warship. Dubbed the "American Turtle" for its appearance, the submarine made three attempts to blow up British ships without success. In a 1785 letter to Thomas Jefferson, George Washington wrote, "Bushnell is a man of great mechanical powers, fertile in inventions and master of execution … I then thought, and still think, that it was an effort of genius".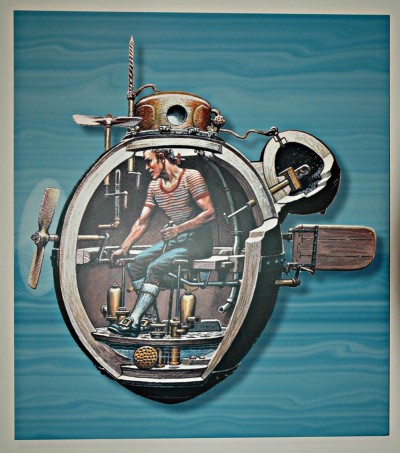 The Turtle was the first submarine ever to be used in combat, but it was actually constructed as an afterthought. Bushnell and fellow Yale University intellectual, Phineas Pratt, had developed an underwater bomb with a time delayed flintlock detonator. The one-man, hand-propelled submarine was then designed in order to transport the bomb to the enemy vessel.
The Turtle was successfully launched in the early morning of September 7, 1776. It then went on to complete a mission against the British flagship, HMS Eagle, a 64-gun frigate moored in New York harbor. The Turtle made its way underwater to the rudder of the Eagle's hull. Unfortunately, the augur first struck metal rather than wood with the screw intended to attach the bomb to the enemy's hull.
Two more times the Turtle was launched, both resulting in a failure to attach the bomb. The submarine was scuttled by the British while stationed in a sloop.