We are open Thursday August 6! Admission is free as we have power, but no internet. Stop by and say hello even if you just need to charge your phone!
Featured Collection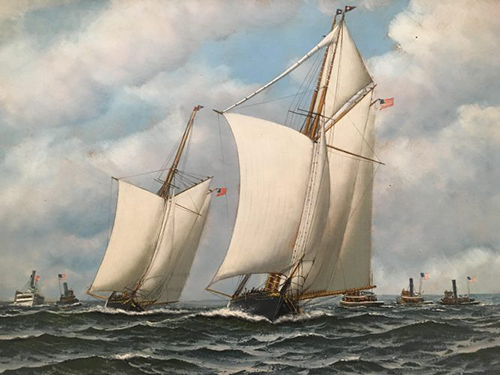 Dauntless  New Acquisition at the Connecticut River Museum
The Connecticut River Museum recently purchased a painting of the famous 1887
Ocean Yacht race between the Coronet and Dauntless painted by famed maritime artist
Antonio Jacobsen. The race is well known in yachting lore – a private $10,000 contest
between two wealthy members of the New York Yacht Club.
The Schooner Yachts Dauntless and Coronet will soon be on display at the Museum.
The painting was purchased through funds from the Brenda Milkofsky Curatorial Trust.
Become a Member
Membership is fun for the whole family and supports our mission to educate youth and adults about the Connecticut River and Essex, CT area's rich maritime heritage!
Follow us on Instagram! @ctrivermuseum